DLF New Town Heights Rajarhat Kolkata Project
About DLF New Town Heights Kolktata Project:
New Town- Rajarhat, a modern town was conceived by the Government of West Bengal in 1999 as a 'Model' city. DLF New Town Heights, DLF Rajarhat the condominium offers 9 impressive towers offering 2, 3 and 4 bedroom apartments spread over 15 acres in various configurations, to cater to individual requirements.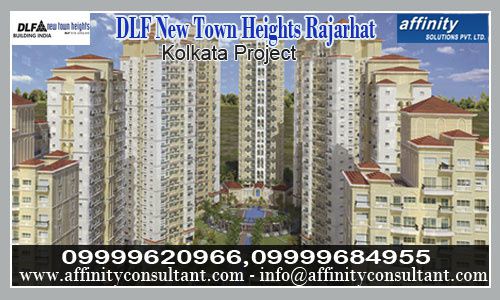 More Details of this Project Please Visit:
http://www.affinityconsultant.com/property/rajarhat-kolkata-property/dlf-new-town-heights-rajarhat-kolkata/176.html
For Faster Response Please Fill Inquiry Form
DLF New Town Heights Project Location:
New Town Heights of DLF Group is located at Rajarhat, Kolkata, with the New Town Expressway connecting EM Bypass and VIP Road, Salt Lake City, NH 34 and Dumdum airport are just a short drive away.

DLF New Town Heights Rajarhat Kolkata Property Rate Plan:
2 Bed+2 T ----------------- 1262 sq.ft
3 Bed+2 T ----------------- 1469 sq.ft
3 Bed+ 3 T----------------- 1728 sq.ft
3 Bed +3 T+Servant---- 1966 sq.ft
4 Bed+ 4 T+Servant---- 2542 sq.ft

DLF New Town Heights Rajarhat Kolkata Project Amenities:
Visitors Car Parking Space, Health care & Diagnostic Center, Early Learning Center, Shopping Complex, Club House, Swimming pool, Gymnasium, Squash Court, Cafeteria, Library, Badminton Court/AC Banquet Hall, Cards Room, Billiards Room, Office, Changing Rooms with Steam, Sauna and Spa Facility.

About DLF Developer Kolkata:
DLF Projects have won accolades in the Retail segment of Indian market for bring forth the "mall culture" and provide shopping, quality entertainment and leisure activities all under one roof. In fact, DLF Universal has undertaken some of the hi-tech and all-inclusive Shopping, Malls in New Delhi that are awaiting completion like the DLF Town Square, DLF Savitri. Some of the upcoming DLF Projects in India are DLF Andheri in Mumbai, DLF Hyderabad, DLF Ludhiana, DLF Chennai etc that promise to offer the best and create breakthrough in the retail culture in India.
For More Details & Project Info please click here:
• http://www.affinityconsultant.com/city/rajarhat-kolkata-property/123.html
• http://www.affinityconsultant.com/developer/dlf-developer-builder/33.html

About Affinity Solutions (P) Ltd.:
Affinity Consultant is perhaps one of the few real estate consultants in India that offer you advice and assistance for buying homes and offices at NO BROKERAGE CHARGE. What's more! If you want to resale the property you have bought with us, we are happy to assist you once again for FREE! We have special deals with the leading developers and builders of India and thus, can offer you special discounts on the best properties in Delhi, Gurgaon, Noida, Mumbai, Bangalore, Hyderabad and other cities in India.
For Booking and More Information:
AFFINITY SOLUTIONS (P) LTD (The Real Estate Consultants)
India: 09999620966, 09999684955
001-6469150050 (US) | 0044-2030516831 (UK)
http://www.affinityconsultant.com
info@affinityconsultant.com